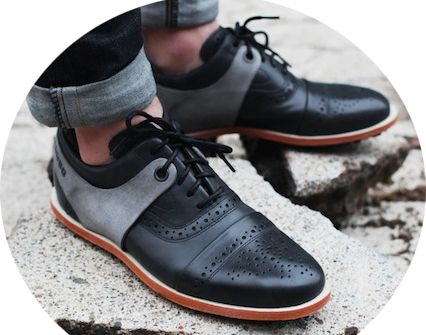 Footwear has come a long way over the course of history. What started simple with just a piece of wood or leather strapped to our feet evolved into something that makes use of all the latest technology and materials in order to provide us with comfort and functionality. However, some types of shoes take things even further by providing us with actual health benefits when wearing them. As a species, we have been using footwear for a relatively short time. This means that our bodies have not necessarily had the proper time to adapt to this new invention. Our feet, specifically the soles of our feet, are designed in such a way that they are intended for barefoot walking on soft surfaces. However, people in modern society are typically expected to walk using shoes on hard surfaces such as concrete. While this is not a problem for most, it can cause pain for some people, especially back pain. The good news is that this can be fixed with the help of ergonomic shoes.
In simple terms, ergonomic shoes are designed in such a way that they are better at mimicking the ideal walking conditions for us (no shoes, soft surface). This will distribute your body weight more evenly and will provide you with more balance. As a direct result, you can expect to see improvements in your posture and to also experience back pain relief. The idea behind ergonomic shoes is relatively new but it has shown to definitely reduce the stress applied to your spine so, if you are experiencing back pain or even just discomfort, they can be the solution you have been looking for. Fitflops are one of the most common ergonomic shoes that are readily available. They come in the form of sandals which are comfortable to wear in general, but now you can also get them in regular shoe designs since flip flops are not considered to be appropriate footwear in all situations.
Other people might have different kinds of issues such as experiencing foot and heel pain. While the causes are more or less the same, the treatment is somewhat different. In this case, orthopedic shoes are the best solution. They are similar to ergonomic shoes, but their design is intended to help relief foot pain instead of back pain. Like ergonomic shoes, there are certain brands that can definitely help you with your problem. Orthaheel flip flops are probably the best solution. They have the technology that aligns the three cardinal planes of motion, thus allowing you to regain dynamic foot function. However, most people cannot wear flip flops to work or when they go out, but the good news is that you can find the specially designed Orthaheel sole in other shoe designs, as well.
If you have been experiencing foot or back pain when you walk or just by standing up a lot, you can alleviate your symptoms with these shoes. If you visit Sole Provisions you will find an extensive range of different types of footwear that will be appropriate for any needs you might have.