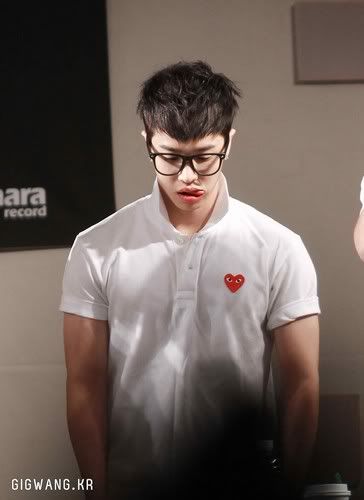 Kikwang of B2ST, KPOP Group..
Comme des Garçons Red Play Polo Shirt (White) £121.00
Most of you might know the brand Play. The brand is the most wear by most of celebrities today worldwide because it has this awesome designs and at the same time their materials using on each of their pieces are indeed in quality. That's why most celebrity are crazing about the brand today..
Awhile ago when I was searching some fashion collection over the web. This photos had pop out on my way and I've been stumbled on this one kpop site that has these photos blogged up. At first I was hesitance to blog it too in here because I doesn't know any further details about the shirt that Kikwang is wearing here but through Google ( thanks to Mr. G) I've found out that the tee is from the brand PLAY and has this item name of Comme des Garçons Red Play Polo Shirt. And it has a price of £121.00 that you may avail anywhere online and even to nearby Play stores.. Awesome,right? Yeah it is, if you do have that much bucks to spend just for s single piece of shirts..haha
Okay, that's it for now and you'll be expecting me to blog up more Kpop fashions here since I converted my blog theme into Kpop artists..haha Thanks so much and have a good time..:)